Invisalign platinum provider Adelaide SA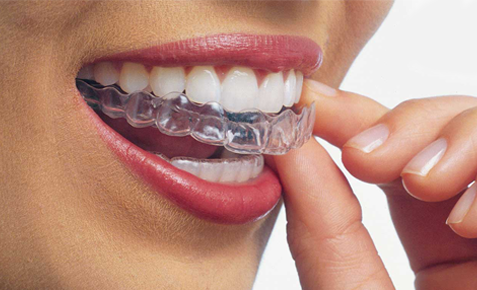 Have you always wanted straight teeth but don't think you could manage braces?
Virtually invisible
Clear treatment plan
Removable & convenient
Comfortable & hygienic
Invisalign is a revolutionary orthodontic treatment – virtually invisible and removable.
Invisalign can be used to treat crowding or excess spacing of teeth, overbites, underbites and crossbites. It is a versatile solution, suitable for almost anyone who wants to straighten their smile.
If you want a straight, beautiful smile but don't like the idea of wearing traditional metal braces then Invisalign could be the solution you have been looking for.
Invisalign consists of clear plastic aligners that are changed as your teeth begin to move. These aligners offer a clear and comfortable alternative to regular braces and are virtually invisible. Another benefit is that Invisalign is removable which makes cleaning easier; and because there are no wires, food can't get caught in your teeth.
The aligners are fully customised for you through the application of 3D computer modelling and are made of specially designed medical grade and BPA-free clear thermoplastic.
When you visit us we will take digital impressions of your teeth with the iTero digital scanner. After the treatment plan has been created off your digital impression your first set of aligners will be produced. You should wear your aligners at all times (except when eating and drinking) in order to complete your treatment in the time determined by your orthodontist in your initial consultation.
You will need to go and see your orthodontist for regular check-ups, so they can monitor your progress, and to receive your next set of aligners.
During the entire treatment process, you'll be able to watch your teeth gradually move into place. Your teeth will, little by little, move into a healthy, natural, straight smile. Consider Invisalign to get the beautiful straight teeth you've always wanted — without braces. Book an appointment with Dr Wayne Chen to see if Invisalign will work for you. 
Invisalign fits in with everyone's busy schedule:
Time for a snack? No problem. Take out your aligners to eat or drink whenever you want without worrying about getting food stuck in your teeth.
Since Invisalign is virtually invisible, chances are no one will even notice you're undergoing treatment.
You can remove your Invisalign aligners, so you can brush and floss regularly and keep your teeth and gums healthy.
If you have a special event, you have the option to remove your Invisalign aligners to enjoy your night out.
With Invisalign, it's easy to make your smile picture perfect for that special occasion.
Invisalign appointments work with your schedule. Most visits are in and out, with a quick progress check once every few weeks.
Click on the links below to read more about Invisalign:
Click here to view information on the iTero Digital Scanner.